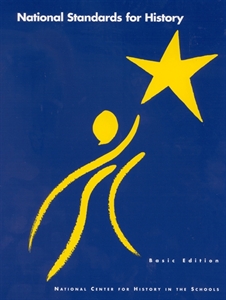 National Standards for History Basic Edition, 1996
The development of the History Standards was administered by the National Center for History in the Schools at the University of California, Los Angeles under the guidance of the National Council for History Standards. The standards were developed with funding from the National Endowment for the Humanities and the U.S. Department of Education.*
These 1996 revised history standards were the result of nearly four years of intensive work by hundreds of gifted classroom teachers of history; of supervisors, state social studies specialists, and chief state school officers responsible for history in the schools; of dozens of talented and active academic historians in the nation; and of representatives of a broad array of professional and scholarly organizations, civic and public interest groups, parents and individual citizens with a stake in the teaching of history in the schools.
This online version of the National Standards for History presents all elements of the printed edition except for 1) charts and illustrations and 2) the appendix listing contributors and participating organizations. It breaks down the standards into 3 sections, the Historical Thinking Standards, US History Standards and World History Standards. To browse through the standards, click through the drop navigation menu bar on the left hand.
To purchase the print edition of the National Standards for History, please visit the NCHS Bookstore
Project Co-directors:
Gary B. Nash
Charlotte Crabtree
Project Assistant Director:
Linda Symcox
Coordinating Editor
World History Standards:
Ross E. Dunn
Assistant Editor
U.S. History Standards:
David Vigilante
If you have comments on the standards please send them to the National Center for History in the Schools division of the UCLA Public History Initiative (nchs@history.ucla.edu).
——————————
*This publication does not necessarily represent positions or policies of the United States government, and no official endorsement should be inferred.
*This publication may be freely reproduced and distributed for educational and research purposes.