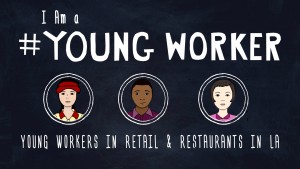 The UCLA Labor Center and the UCLA Department of History are very excited to invite you to the premiere of our animated short film, I am a #YOUNGWORKER. The film combines worker experience and research data into a powerful and artistic animated story. The film will entertain and inform diverse audiences of all ages.
Join us for a night of interactive, arts-based social justice connections. There will be light food and drink to animate everyone! Childcare and translation available.
Please RSVP for the event: http://bit.ly/YWfilmrsvp
I am a #YOUNGWORKER is a multimedia research project that combines data, stories, and images by and for young people. It gets to the core of what young workers face today– their struggles, their dreams, and their hopes for the future. The film is based on a participatory student-led report of over 550 young workers across Los Angeles county.
The project also includes a young worker photo gallery exhibited at the Labor Center. We look forward to seeing you and thank you for your continued support of our student and worker-engaged research initiatives. Read report and see the photo exhibit here: www.youngworkersrising.org.
The I am a #YoungWorker animation project is made possible by the Lemelson Foundation, with support of the UCLA Dean of Social Sciences, the Labor Center, and the Department of History.