POSTPONED: An Evening with James Lawson, Civil Rights Activist
Please note that this event has been postponed to a later date.
Why History Matters
Inequality, Nonviolence, and Social Justice: A Conversation with Rev. James Lawson
Thursday, May 7, 2015 | 7:00 p.m. POSTPONED TO FALL QUARTER
Panel discussion | Reception to follow
Lenart Auditorium | Fowler Museum at UCLA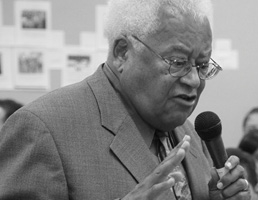 Rev. James Lawson is a leading theorist and practitioner of nonviolent social action. During the 1960s he advised Dr. Martin Luther King, Jr. and lead civil rights campaigns in Nashville and Memphis. Since the 1970s, his teaching on nonviolence has shaped the practice of social movements in southern California an across the country.
Vinay Lal is Professor of History at UCLA where he teaches courses on Indian history, postcolonial societies, and the contemporary world history. He writes about the politics of history for academic and popular audiences.
Toby Higbie, Director of the UCLA Public History Initiative and Associate Professor of History, will moderate the discussion. Higbie teaches courses on U.S. labor social movements.
Parking: Self-pay parking is available for $12 in Lot 4. Access Lot 4 from Sunset Blvd at Westwood Plaza. Attendants on-duty accept cash only
For more information contact the Public History Initiative.