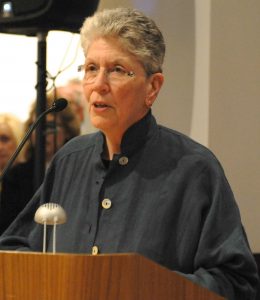 As the new director of PHI and NCHS, I welcome your interest in our work.  I look forward to building on the legacy of Gary Nash and the innovations of my predecessors, Tobias Higbie and Kelly Lytle Hernandez.  These are exciting, challenging times for historians, students of history, and anyone who appreciates the value of historical perspectives in uncharted territories.  The Public History Initiative serves within the History Department as a vital conduit for making the study and lessons of history accessible and relevant beyond the university campus.  In that role, we are expanding the HistoryCorps program with more internships and new community partners.  In 2017, we will be launching two new programs designed to enhance the History Department's public engagement.
Revitalizing the department's 30+ years commitment to K-12 history education, we will be organizing a working group of secondary school teachers, PhD alumni, and current graduate students to identify critical curriculum resources and develop cutting-edge tools and resources for middle and high school classrooms.  Among our on-campus partners will be GEIS Center X's History-Geography Project and the Geffen Academy.
By fall 2017 we plan to have in place a sequence of undergraduate courses that can serve as an introduction to public history prior to a HistoryCorps internship and as an advance training option after a HistoryCorps internship.  Students in these courses will drive the research and development of the 1919 Project, a multi-faceted, multi-media, multi-year endeavor to document and interpret the histories of UCLA.  We look forward to working with our History Department Undergraduate Council members and department faculty to ensure an engaging student contribution to the upcoming UCLA Centennial commemorations.
Everything has a history.  Knowing that past can help illuminate present circumstances and suggest future options.  Historical understanding has a role in virtually every choice and decision people make, from the personal and mundane to the public and profound.  I am committed to continuing the work of PHI of increasing the resources, knowledge, partnerships, collaborations, and opportunities for history to matter in these surely historical times.  I invite you to drop by the PHI office to learn more about our work and how you can be involved.
Karen S. Wilson, Ph.D.
Graduate Career Officer
Director, Public History Initiative